Lesson 1.1  The Process Of Making Money Online Explained
There are many ways of earning revenue from the internet, what I am showing here is the basic idea around which the many ways revolve. What are shown in the diagrammatic representation below are the core components necessary in the process of making money online. Starting from the audience either route can be taken to end up with a commission.
People are always looking for information online. Now it is estimated that around two billion people use the internet, massive audience! So, everyone can make money from the internet regardless of their geographical location, it's a global opportunity. The only catch to many being lack of knowledge on how to do it. The audience searching through google or by use of the social networks will be referred to your website for information by clicking on a link.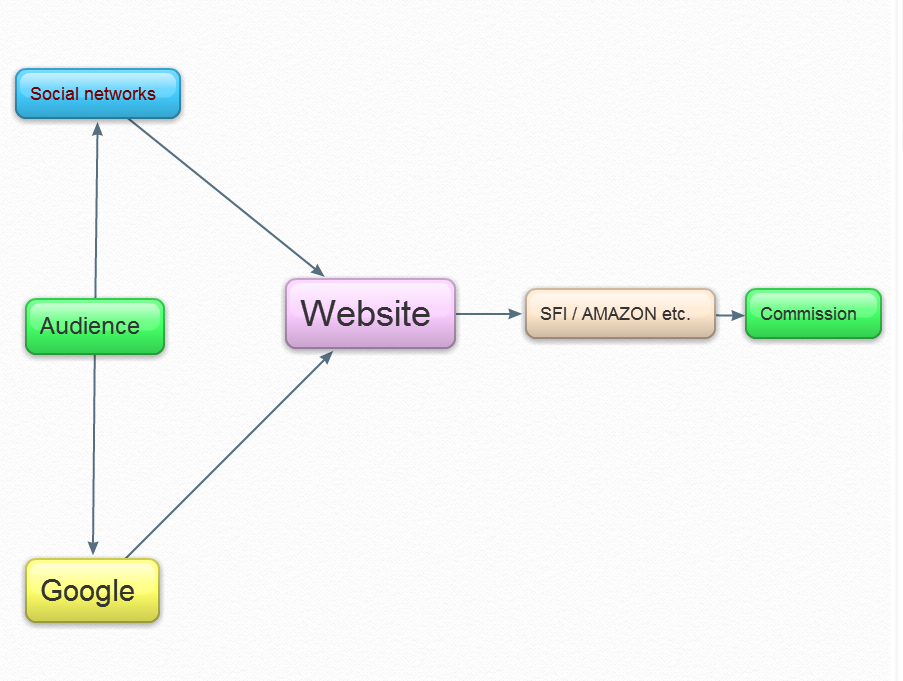 Here lies the importance of having a website. The website is the core or foundation of the whole process of making money online. Without a website there is no hope of making revenue online. Having a well built functional website is critical in the whole process of generating revenue online. It's here at your website where you can promote other people's products (affiliate marketing), offer adSense, create or promote your own products and a lot of other different things. With a good website you can target an audience of two billion people from all over the world.
You don't have a product of your own? Don't worry there are tens of thousands of affiliate programs from which to select products to promote, you have the giant companies like SFI, Amazon and many many others.You can select one or a number of products you like from them and market on your website.
In the process a customer selects a product he wants and clicks on an affiliate link on the website to make a purchase. Once the transaction is complete, the website owner gets a commission based on a percentage of the cost price.
It has been a brief introductory lesson. In our next lesson we will talk about Keywords and keywords tools.
Cheers.
Start Next lesson >>