This tutorial is about generating and submitting a sitemap for your joomla site to the Google Search engine. We use a joomla component to accomplish this, the XMAP. This is a joomla component that allows you to create a sitemap of your joomla site using your menu structure.It is compatible with Joomla 1.5, 1.6, 1.7, 2.5 and the 3x versions and the XML sitemaps created are compatible with Google, Yahoo, Bing and some other search engines.
In a separate topic we explain what a sitemap is, we go on to describe the uses of sitemaps and hint on the many ways that can used to generate and submit sitemaps. You can go to any of these using links we provide at the bottom of the page.
An XMAP sitemap can be generated in four simple steps
1. Downloading The XMAP component
To download the component go to http://extensions.joomla.org/ and search for XMAP. When logged in into your joomla site, you can arrive to the site by navigating through Help>Useful Joomla Links>Joomla Extensions from the back-end of your site. Download the component and save it into a file in your computer's hard drive.


2. Installing The Component
From the back end of your site, go to Extensions>Extension Manager and choose the file you downloaded from your computer hard drive. "Click on Upload & Install." Then go to Components>Xmap. This message appears "Xmap have detected that the following extensions can help you to get more content in your site map but they are disabled, you have to manually enable them visiting the extensions manager: com_content, com_weblinks". You need to go to Extensions>Plug-in Manager, locate Xmap-content Plugin and enable it by clicking on the red radio button.on refreshing or going back to Components>Xmap, you'll find that there's a change in the blue message (only com-weblinks remains to be enabled).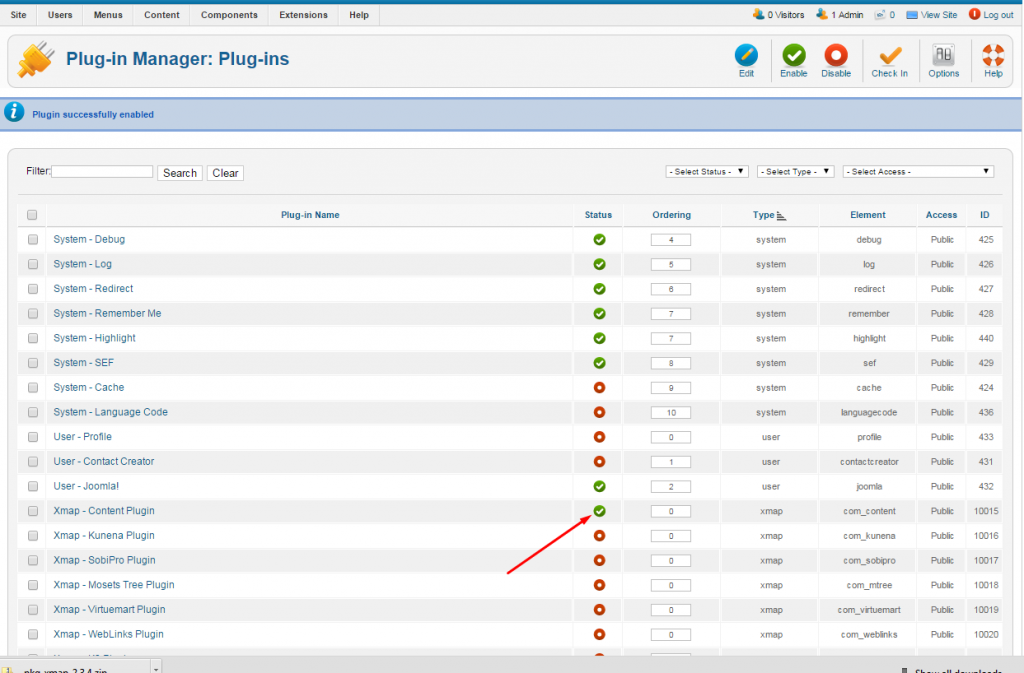 3. Setting Sitemap Configurations
Go on to click on "New" (orange circle on upper right-hand corner), you get a page to put settings for your sitemap. Give a title for your sitemap and change status to published. On the right side, select menus that you want to appear in your sitemap, go and edit options. Finally click on "Save & Close."

4. Submitting The Sitemap To Google
You can easily submit your sitemap to Google using the Google webmasters Tools. But you need to verify your site with Google to do this. Once in the Google Webmasters Tools, go to Sitemap>ADD/TEST SITEMAP. Copy and paste the URL of your sitemap in the space provided and click on "Submit Sitemap."

Feel Free To comment or ask questions on this topic, I'll be more than happy to reply.

Laurian.
Related Topics:
How To Verify Ownership Of A Joomla Website With Webmasters Tools
Methods To Verify Site Ownership To Google
Verify Site Ownership With Google webmaster Tools