The way in which sitemaps are created and used has evolved with time from the original manually created HTML sitemaps intended to help visitors find the pages of a website to XML sitemaps to be used by the search engines. In this topic we shall see what exactly sitemaps are, their importance and uses, how to create them in wordPress and how you can submit them to the Google search engine.
What Is An XML Sitemap?
A sitemap is a list of the pages of a website accessible to web crawlers and site users. It is a page with links to all the pages of your site. It can be a manually created HTML file intended to help users and search engine bots find pages on a site or an XML site map.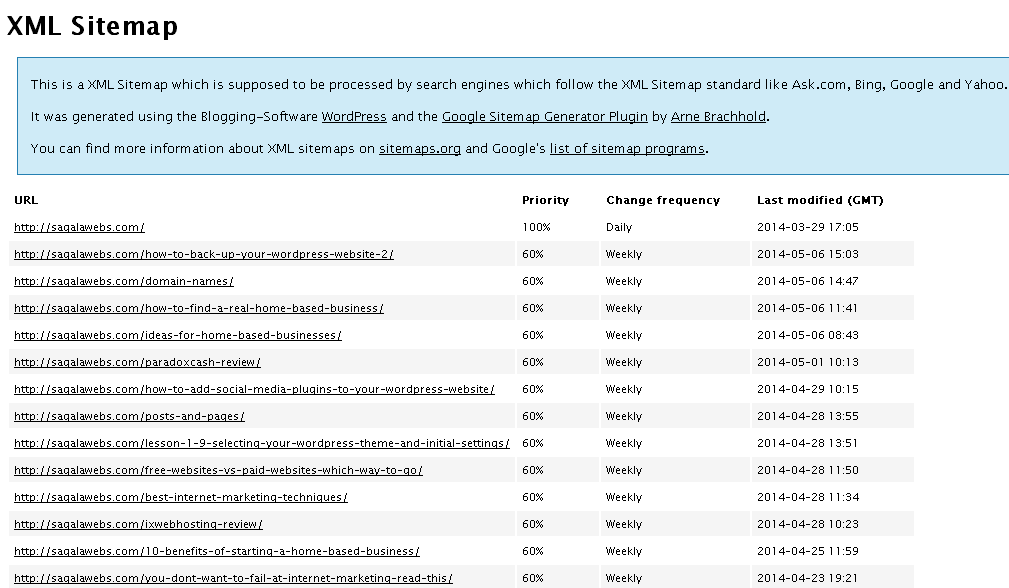 An XML sitemap is an XML file that you submit to Google and other search engines to let them know about the pages and posts on your site. The sitemap lets the search engines know how the webmaster rates the importance of the pages on his site and how often they will be updated. An XML sitemap doesn't need to be seen by visitors. XML (Extensible Markup Language) is a standard way of structuring and encoding documents for web crawlers to identify and parse sitemaps. XML is a much more precise coding than HTML.
With one Google account you can submit sitemaps for more than one website and for one website you can submit more than one sitemap.
What Are The Uses Of Sitemaps?
Sitemaps enable the search engines learn about the structure of your site which will allow them to improve the crawler schedules. This is great boost to your site's SEO since the search engines will be able to crawl some pages which would otherwise not be accessed. I f your site is new, it will have a few links to it. Since Googlebot crawls a site following links from one page to the other, the crawler will not be able to reach to some of your pages without a sitemap. The same applies to the case where your site has many pages in the archive that have few links or are not linked at all.
Sitemaps are particularly useful when your site contains dynamic content. Dynamic pages (Adobe Flash or JavaScript ) and other pages built in non-html languages are not searchable, a sitemap will contain URLs to these pages and hence the web crawlers will be able to find them.
How Do You Generate A Sitemap?
There are a number of web sitemap formats that are acceptable by Google. You can create your sitemap manually and submit it as a a text file or as an RSS/Atom feed. The recommended format is one based on the Sitemap protocol 0.9. A number of search engines like Bing and Yahoo are members of sitemaps.org and adhere to the same standard, so you can submit the same file to the other search engines.
A number of plugins have been developed to generate sitemaps. I use "Google XML Sitemap" by Arne Brachhold, it works fine and can be installed very easily. If you're new to installing plugins, read "How To Install WordPress Plugins".
How Do You Submit A Sitemap To Google?
You can submit your sitemap using Google Webmaster Tools but before doing this you must verify your site with the Google Webmaster Tools. With the sitemap created using the plugin above, simply go to the Webmaster Tools, click the Add/Test Sitemap button and write sitemap.xml in the text box. Finally click on "Submit Sitemap". It takes about 5 days before you can see your sitemap. To view your sitemap, browse http://www.domainname.com/sitemap.xml where domainname is the name of your site.
If you created a sitemap manually, upload the text file (name it sitemap.xml if you can) to your server and submit it as above.
With your sitemap submitted, a ping is sent to the search engines whenever you publish a new page or post to let them know about the changes and your sitemap is automatically updated.
In this topic we have seen what a website sitemap is, we explained the uses of a sitemap and how to create a sitemap. We finally saw ways to submit a sitemap to Google using Google Webmaster Tools. I hope the topic will be of help to webmasters with new sites and who had never submitted a sitemap to the search engines.
Please feel free to leave your comments on the topic.
Laurian.