Many people are looking for legitimate home based business opportunities online and a big

percentage of them fall into the hands of scams. No wonder, because one research revealed that there are 60 scams for every one that's for real in the ads. I, like many others who first start online, was a victim of the work from home scams.   Is there a way to find a real home based internet business opportunity without falling prey to the phoney companies? And I know you have this other question, do legitimate work at home business opportunities exist? Follow me on this page to get your questions answered.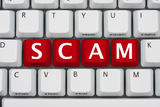 Many people do work online from the comfort of their homes, I mean, legitimate home based business opportunities do exist. I will lead you on this page through a checklist to follow to find a company to work with. You're reading this page because you want to start a home based business, but a few words of caution before we continue.
Unlike the traditional jobs, working online from home requires self-motivation, more self discipline and independence. It requires you to work persistently and consistently.You got to have or learn the skills required. If, for example, you are parent and says that you want to work from home so that you can have more time to spend with your children, personally, I doubt on that.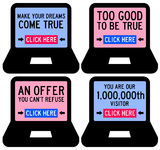 Now if you think you got all what it takes to do it, let us see what you should do to find a real home based business opportunity. When you found something likely to be a legitimate home based business opportunity, it's time for some detective work. Check it against the following.
1. Registration or start-up fees.
A real home based business opportunity, like any other traditional job, does not require any start-up or registration fees nor do you have to pay for instructions. If you are asked to pay in order to go to work for them, probably you found an illegitimate company. Don't be lured by a money- back guarantee.
2. Company Reputation.
Check on the company reputation specially how long it has been in business, the longer the better. Does it posses a physical address? Check their email, contact them to express your interest and wait for their response. Check the domain name in the Domain Tools, you should find all registration details for the company. Visit their website, if they don't have one, that's clear warning sign.
3. Type Of Business.

Not all types of businesses are doable online. Affiliate marketing and some other businesses can be done online. Get some knowledge of your offer.
4. Training and Tools.
A good company will provide free training and tools for your marketing campaigns. If they don't provide or require you to pay for training and tools to work with, probably that isn't a good company at all.
5. Pyramid Schemes.
Avoid pyramid schemes
6. Payment Method.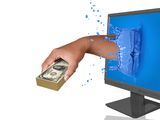 Find out what tasks you will have to perform, whether you will be paid a salary or on commission basis, who will pay you, the methods of payment and when you will get your first paycheck.
7. Google Check.
Type the company name in Google and find out if there are complaints from people who have been scammed by the same company, people will always report. Read reviews about the company.
8. Records.
Check for the company records against the Better Business Bureau (BBB), the Federal Trade Commission (FTC) and Fraud.org. Some sites will have logos of BBB, Fraud.org. and the U.S. Chamber of Commerce to indicate their endorsements. Now if the company passed all of the above, chances are, you found a real home based business opportunity.
Feel free to ask questions concerning the above topic or leave your comments, I will be more than happy to answer back.
Laurian.