This article basically focuses on how to manually install Joomla 2.5, which is currently the stable version of Joomla to your hosting account, though the same technique closely applies to the Joomla 3.x versions. For each version of Joomla, it's important to check on the hosting and system requirements before you do your installation. For example, Joomla 3.1, 3.2 and 3.3 require a PHP 5.3.10 + , MySQL 5.1+ , MSSQL 10.50.1600.1+, Microsoft IIS 7 as their minimum requirements. When you have met the hosting and system requirements, you can install Joomla manually following the steps below:
 Step 1: Download the Joomla Installation Package You want
 Step 2: Upload Your Joomla Files To Your Hosting account
 Step 3: Create A MySQL Database For Your Joomla Site
 Step 4: Start The Installation Process
1. Download the Joomla Installation Package
Your first step is to download the version of Joomla to be installed to your hosting account. It is advisable to download it from the official Joomla site – Joomla.org- to avoid the risk of inclusion of malicious code in your setup files. Locate your downloaded installation package in your hard disc and extract it in a new folder. Your downloaded package will look like Joomla_2.5.24-Stable-Full_Package.zip.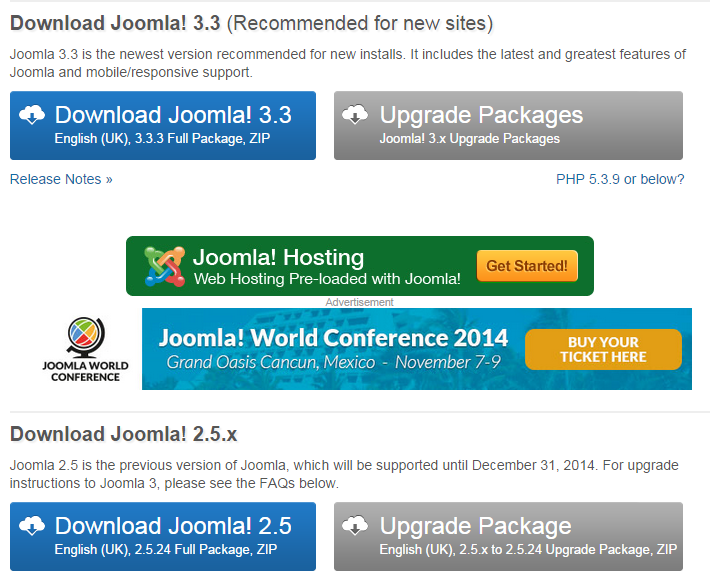 2. Upload Your Joomla Files To Your Hosting Account
You then need to upload the extracted files and folders to your hosting account. One way of doing this is through an FTP client like Filezilla. If you're not familiar with this, you can read through "Filezilla And Trellian Webpage Software". The files and folders for the installation package need to be uploaded in the root folder of your website.
CAUTION: If you want your site to be accessed through your domain name i.e. yoursite.com, do not upload the complete folder otherwise your site will have to be accessed through yoursite.com/Joomla if you extracted the files into a folder called Joomla. If you host your account at ixwebhosting, you must delete the "index.html" file you find on the list of files on the root directory. For other hosting accounts, upload the extracted files to your public_html folder.
3. Create A MySQL Database For Your Joomla Site
Your next step is to create a MySQL database for your joomla site and assign a user with full permissions. If you are new to this, read through "How To Install WordPress On Your Hosting Account Manually". it's pretty much the same process. Make sure you take note of the database name, the username and the password, you'll need them later in the installation process.
4. Start The Installation Process
The creation of a database and the uploading of the installation files are the requirements needed for the installation of Joomla. When you've accomplished these, you're ready for the installation process. Now use your favorite browser to navigate to your main domain ( yoursite.com ) or your subdomain where you uploaded your installation package. This will take you to the Joomla web installer. On the first screen, you need to fill information about your site and your administrative particulars.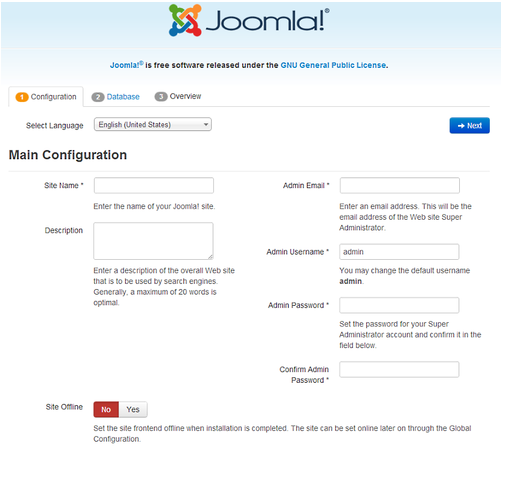 - Site name: Enter the name of your site here.
- Description: Give a brief description ( about 25 words ) of your site
- Admin Email: Fill in a valid email address that will be used for your passwords recovery and all other system messages.
- Admin Username: Fill in a username you will use for administrative purposes
- Admin Password: Select a strong password
- Site Offline: This allows you to select whether the site should be live or not after the installation process. A Yes means the site will go offline and a No means your site will be live when you go to yoursite.com.
When you have completed filling the fields, click on the NEXT button to continue with your installation and you will be taken to the second installation screen where you have to enter information about your MySQL database. Fill in the information you created in Step 3 ( Create A MySQL Database For Your Joomla Site ) above.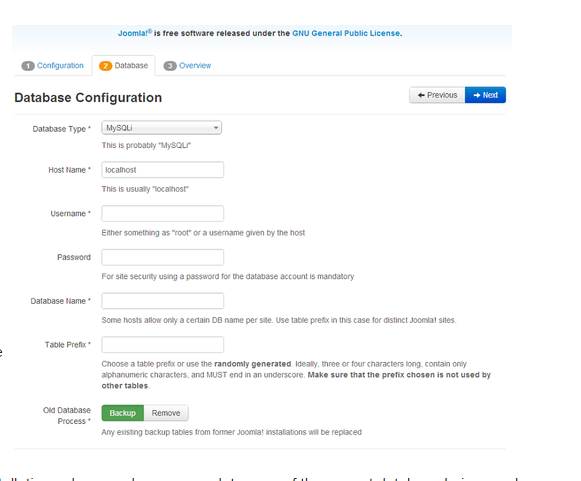 - Database Type: The default value is MySQLi which is an optimized version of MSQL
- Host name: Here you have to specify where your database is located. If you're not sure, contact your hosting company
- Username: Enter the username you selected while creating your MySQL database
- Password: Fill in the password for your database
- Database Name: Fill in the name of your MySQL database
- Table Prefix: Joomla automatically generates a table prefix for you . Leave the default value
- Old Database Process: Leave this field set to Backup                                                                                                                                                                                              When all necessary information has been entered, click on NEXT to proceed. This takes you to the last page of your installation process. On this page you can choose whether you want sample data to be installed on your server or not. Joomla comes with sample data to help you understand how it works. It is advisable to select the Default Sample Data option if you are new to Joomla.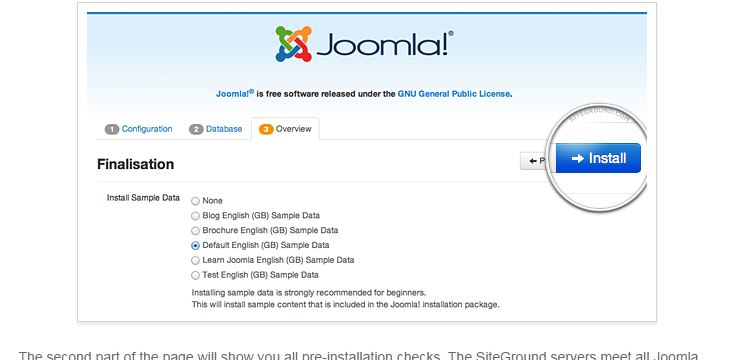 On the second part of the page you'll see the pre-installation checks. Click on the Install button to initiate the installation process. This takes you to the last screen of the of the web installer.

There is only one step you have to take on the last screen to complete your Joomla installation process, that is, deleting your Installation Folder. This is required for security reasons. Click on Remove Installation Folder. Once a success message appears, you're ready to start building your website. Click on Administrator to navigate to the administrator login or click on Site to go to your site.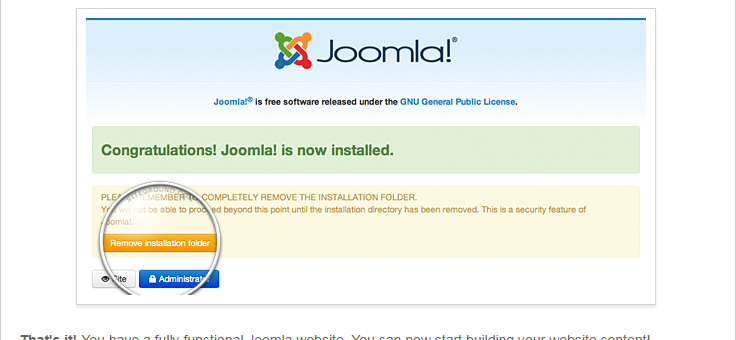 Congratulations! You successfully installed your Joomla.
Feel free to leave your comments on this topic, I will be more than happy to reply.
Related Topics