The Google Webmaster Tools provide a lot of information regarding to site performance in the search engines. They also provide diagnostic reports which can help the webmaster follow through and fix problems on their sites. They are an indispensable tool to the site owner. In order to get information about your site or use the tools, you must verify ownership of your site to Google for security and privacy reasons. In this article I will show you one simple method to verify site ownership with Google Webmaster Tools.
The method makes use of a plugin called "All In One Webmaster" with which you will have your site verified in very few steps.
How To Verify Site Ownership To Google Using "All In One Webmaster" Plugin
1. Install and activate the All In One Webmaster plugin. Go to your dashboard and locate the AIO Webmaster icon. From its menu select "Webmaster Options". Clicking on this will send you to the All in One Webmaster Options page. We will come back to this page later.
2. Go to Google Webmaster Tools and add your site. If you don't have an account with Google Webmaster Tools, create one. Make sure you write the full URL for your site then hit "Continue".
3. Here we want to get the HTML tag. If it's not listed on this page as a recommended method, hit on "Alternate Methods" and select HTML tag – add a meta tag to your site's home page. From the meta tag provided, we only want that part within the parenthesis (the part underlined in blue in the snapshot below), so highlight it , copy it and go on to paste it on the All in One Options page. Copy it in the box on the line for "Google WebMaster Central". Click on "Update Options".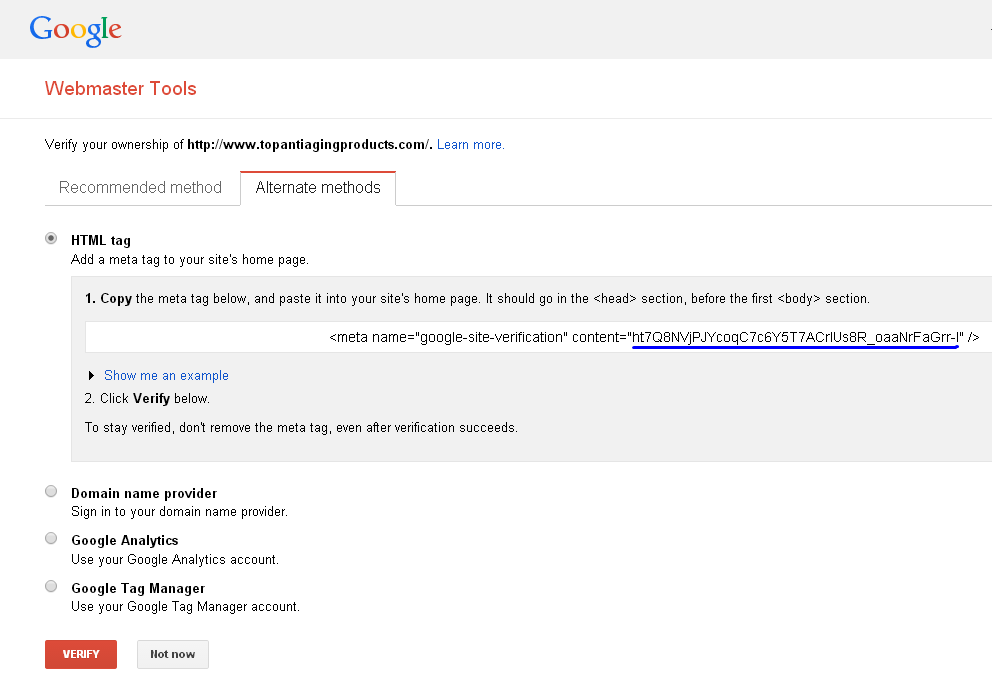 4. Now go back to the Google Webmaster Tools page and click on "Verify". You will get a message that your site is verified. And ,That's all!
There are many methods of verifying site ownership to Google but I find this to be the simplest especially to the beginner who might not be having a Google Analytics account or may find it hard to upload a HTML file to the server. Site ownership verification is a prerequisite to submitting a sitemap to Google so it's important that you undertake this simple step now.
If you have any comments feel free to put them here below. I will be happy to read and answer them.
Laurian.